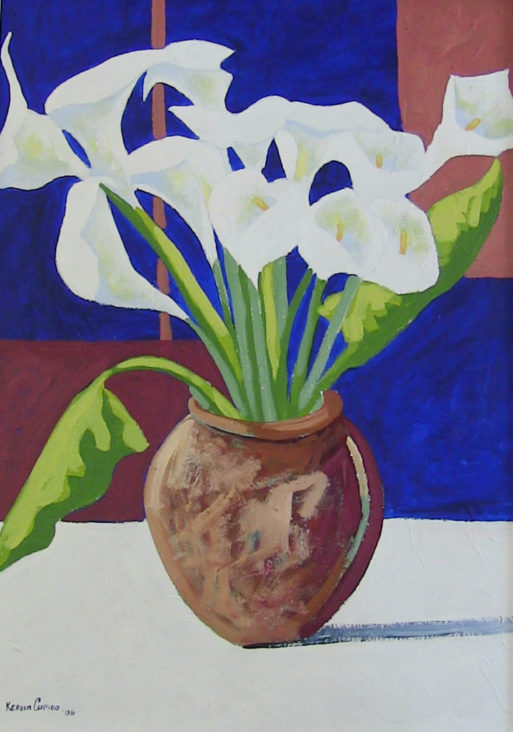 Art for Access
This project aims to use our local artist community as a medium for change for both the artists and the students at Cornerstone Institute, supporting our vision to make higher education accessible to all and in the process uplift and empower our communities.
Each month a painting will go on auction online. The proceeds generated will contribute towards a student's tuition fees. This month, the sale of Still Life Lilies will go to benefit Gerald Alexander.
Still Life Lilies (Acrylic on board) was created by Kervin Cupido. Kervin is a multi-media artist who, as painter and sculptor, loves experimenting with different media and techniques. His love of visual art and observation of people at work and play developed through his school years, when he quickly learned to use his talent to express himself in truly mixed media. This often included sculpture. One of his greatest fortunes is to have Selwyn Pekeur (an old school teacher) as a mentor in life and art. Kervin is a founder member of the E'bezweni Art Group together with Solomon Siko, Selwin Pekeur and Dylan Denyssen.
Between 1996 and 1999, Kervin annually traveled to Germany to attend painting and sculpture workshops which greatly influenced his style and use of material and colour. His works were later part of a group exhibition held in Hamburg. He was the only artist from Africa, outside of Egypt, to be invited to the month-long International Luxor Painting symposium in 2008. He was one of the few artists invited to exhibit during the 2010 FIFA Soccer World Cup in Cape Town. His work has also been used for Cape Town Jazz Festival posters and bill boards, and can be seen in many galleries throughout South Africa.
Bid to own this beautiful piece, and also support Gerald Alexander to complete his studies.